Bentley Bentayga: Why Sales Continue To Soar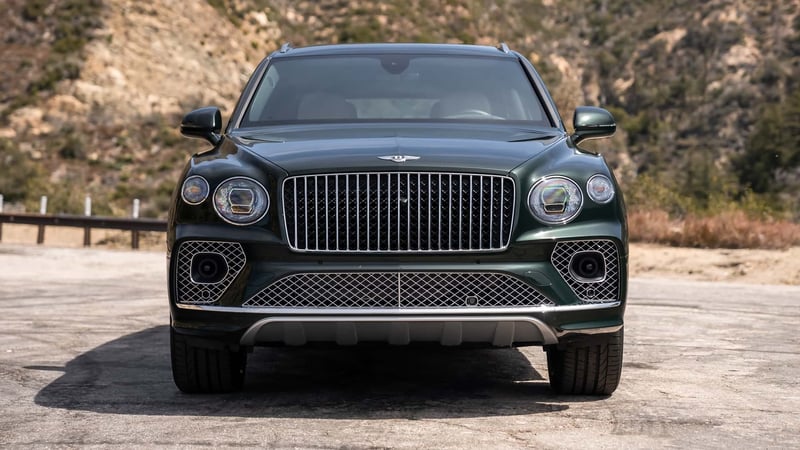 We recently had the chance to review the new 2023 Bentley Bentayga EWB and we loved every second we had with the long-wheelbase luxury SUV. Here are some quick excerpts from the review:
Short for extended wheelbase (EWB), this latest offering is more than just a stretched Bentayga. Its updated architecture features over 2,500 new parts. And with options like its reclining airline rear seat, body-sensing auto climate settings, and a new all-wheel steering system that disguises its 125-inch wheelbase, the EWB stands out within the model range.
This may be an ultra-luxury SUV, but its idle sound is befitting of a muscle car. It counts on the same twin-turbocharged 4.0-liter V8 as the standard Bentayga. It develops 542 horsepower and 568 foot-pounds of torque mated to an eight-speed automatic transmission and a standard all-wheel-drive system.
On the road, the EWB reveals its biggest party trick, as it feels nearly indistinguishable from a standard Bentayga, despite its added weight and size.
On the surface, the EWB reads like just a stretched Bentayga, but you'd be wrong. With those extra inches added to its wheelbase, this lengthy Bentayga makes a strong case for itself as a segment-leading luxury SUV but a proper limousine replacement.
You can read the full review here.
Ever since Bentley Motors first unveiled the Bentayga back in 2015, the sales of the luxury SUV have been skyrocketing. The Bentayga quickly gained popularity among luxury car enthusiasts and established its position as a prominent model in Bentley's lineup.
In 2022, Bentley Motors announced another remarkable achievement, with the sales of its Bentayga luxury SUV continuing to soar. The company delivered a record-breaking 15,174 units of the Bentayga, marking a significant milestone in Bentley's history. This remarkable sales figure represents a 4% increase compared to the previous year, demonstrating the sustained growth and demand for this luxurious vehicle.
The Bentayga's exceptional performance in 2022 solidified its status as Bentley's best-selling model and showcased its enduring appeal in the competitive luxury SUV market. This significant sales milestone not only highlights the popularity of the Bentayga but also underscores Bentley's success in meeting the demands of discerning customers.
There are many reasons for the SUV's popularity, each of which we touch on in the review. This includes its luxurious interior appointed with fine materials, powerful engine, off-road capabilities, absurdly smooth ride, and more.
The Bentayga is more than just a home run for Bentley Motors as it also acted as a sign that the automaker is all-in on innovation. In fact, Bentley has used the Bentayga as a vehicle for its rush for sustainability, offering a plug-in hybrid variant of the SUV. Furthermore, an all-electric Bentayga is set to be welcomed into the world in 2025. Bentley has introduced these electrified variants of their popular models as a part of their target of becoming carbon neutral by 2030.
If you're looking into adding the world's "most successful luxury SUV" to either your garage or showroom floor, be sure to check out every Bentley Bentayga for sale on duPontREGISTRY.com. As of publishing this article, there are more than 250 unique examples of the luxury SUV for sale across the country. This includes the various best-selling variants and much more. If you would like to include your Bentley inventory on duPontREGISTRY.com, be sure to click the button below.