2023 Maserati MC20 Cielo Review: A Look At Maserati's Exciting Future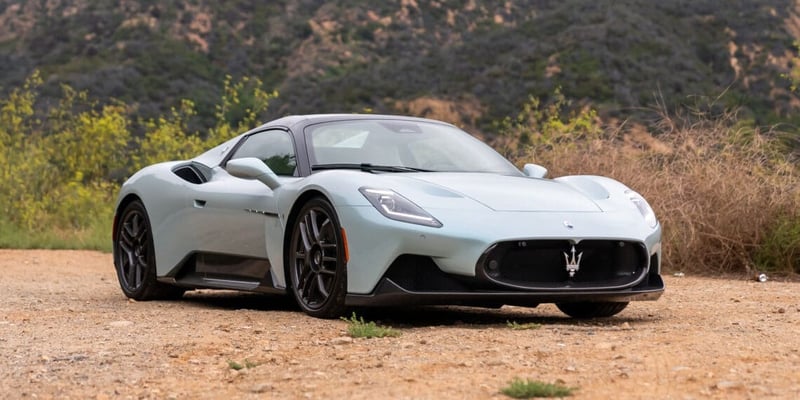 Recently, we had the opportunity to test drive the 2023 Maserati MC20 Cielo, the droptop version of the MC20.
Here are a few excerpts from our first-drive review of the new MC20 Cielo.
"Three years on, I'm now behind the wheel of its drop-top sibling, the 2023 Maserati MC20 Cielo. And although it's mechanically identical, only differentiated by a metal and glass folding roof, the Cielo adds a whole new dimension to the driving experience. It lets you connect with its characterful V6 without handling penalties while retaining the style and elegance of the coupe. The MC20 Cielo is the right car to compete in a flourishing supercar market and the right machine to set the tone for the brand's future.
"

"My tester's Acquamarina paint is one of the best colors I've seen in years. It looks light blue at first glance but shifts depending on lighting conditions thanks to its pearlescent paint, giving it tons of variety. Unfortunately, it's only available for the Primaserie Launch Edition, of which Maserati plans to build just 60 cars to highlight its Fuoriserie customization program.
"

"It's almost impossible to tell the Cielo apart from its coupe counterpart in the bends. It combines double wishbones front and rear with adaptive shocks, allowing it to firm up significantly in the top Sport and Corsa modes while retaining daily driver comfort levels in the plusher GT setting."

"Inside, the Cielo builds on the quality improvements implemented by the MC20 revealed three years ago. Its interior features a two-tone Ice/Grey finish with triangular stripes on the seat cushion and backrest. Its dashboard blends carbon fiber and suede trim and accommodates two 10-inch screens to fulfill digital instrument and infotainment duties."
You can read the full review here.
Maserati, the renowned Italian automaker celebrated for its fusion of opulence and performance, is embarking on a forward trajectory with ambitious endeavors that pledge to redefine the brand in this era of contemporary motoring. At the core of Maserati's strategy lies a daring shift towards electrification, an unwavering dedication to technological advancement, and an unyielding commitment to preserving its distinctive heritage among luxury car manufacturers.

As the automotive industry gravitates towards sustainability, Maserati not only embraces this trend but also establishes its own momentum. The company has unveiled plans to electrify its entire range by 2025 through a combination of hybrid and fully electric vehicles (EVs). Kicking off Maserati's journey into electrification was the Ghibli Hybrid, followed by the MC20—an embodiment of Maserati's future—which will feature both an all-electric version and their Nettuno engine: a commanding V6 powerhouse generating 630 horsepower that heralds Maserati's resurgence in producing their own power units. Further solidifying their devotion to high-performance EVs is the forthcoming Maserati GranTurismo Folgore—the marque's inaugural all-electric vehicle.

Beyond propulsion systems, Maserati envisions integrating cutting-edge technology throughout their vehicles—from advanced driver-assistance systems (ADAS) to next-generation infotainment platforms. Exemplifying Maserati's innovative spirit is the MC20 with its state-of-the-art Nettuno engine—a product of Formula 1-derived pre-chamber combustion technology—aimed at enhancing safety and connectivity while ensuring driving pleasure remains paramount. Additionally, they are actively exploring novel materials and manufacturing techniques that reduce weight and enhance efficiency without compromising the luxurious essence permeating every aspect of their vehicles.

While forging ahead into new frontiers, Maserati remains deeply rooted in its past. Distinctive design aesthetics, resonant engines, and passionate craftsmanship continue to serve as the bedrock of each new model, including the MC20—an homage to Maserati's racing legacy while simultaneously pushing performance boundaries. Furthermore, Maserati's commitment to Italian craftsmanship and bespoke personalization options guarantees that every vehicle exiting their production line is as unique as its discerning owner.

Maserati also keeps a watchful eye on autonomous driving technologies. Although full autonomy may not be an immediate focal point, the company is actively developing systems that grant drivers the option for hands-free driving when desired—marrying the joy of piloting a Maserati with modern automation conveniences.

With electrification, innovation, and unwavering dedication to tradition at its helm, Maserati's roadmap remains unequivocal. The Nettuno engine and MC20 represent merely the nascent stages of a new era wherein electrifying their fleet, relentless innovation, and preserving their Italian heritage take center stage. This strategic vision not only secures Maserati's position in an ever-evolving automotive landscape but also promises to ignite unparalleled excitement among fervent trident emblem enthusiasts. With these plans set into motion, Maserati's future shimmers with anticipation akin to its illustrious past.