duPont REGISTRY No. 457 – June 2023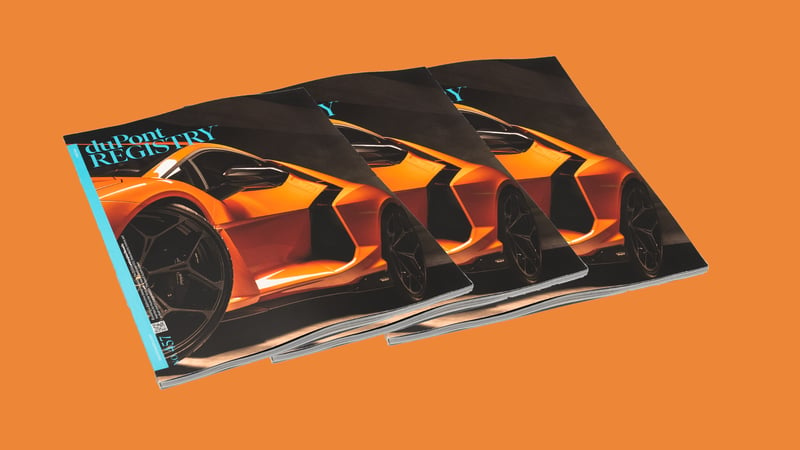 Miura. Countach. Diablo. Murcielago. Aventador. The name of every halo car from the house that Ferruccio built. It's an easy list to remember because Lamborghini builds memorable cars, and as the era of combustion draws to a close, the Italian manufacturer has one more name to add: Revuelto.
The new Lamborghini Revuelto is a plug-in hybrid hypercar that produces a combined system output of 1,001 horsepower from its 6.5-liter V12 and three electric motors. If you take the horsepower rating of the most powerful Countach ever sold and combine it with the most powerful Diablo, you'd still have less horsepower than the Revuelto.
Lamborghini sure knows how to stuff a stat sheet, which is why the new Revuelto has earned a coveted place on this month's cover of duPont REGISTRY. Follow along on page 12 where we'll take you through the Revuelto from top to bottom, including how its all-wheel-drive system works, what each of its 13 separate driving modes is for, and when it will go on sale.
Speaking of hybrids, there's a reason why so many supercar manufacturers have chosen this powertrain of late. On page 44, we'll dive into the answer, which not surprisingly involves government regulation designed to reverse the effects of climate change.
Fortunately, that happens to dovetail nicely with the pursuit of ultimate performance. It's always nice when the solution to a global threat has exotic cars with four-figure horsepower ratings as a side effect.
Speaking of ridiculous power, there's debate about which SUV is a true supercar for the family. The Aston Martin DBX 707, though, has our money. An Aston Martin for schlepping rugrats around makes sense – after all, James Bond can't still be childless after all that womanizing. A week with this nearly 700-horsepower SUV informed our full review, which you can read on page 24. If Bond did upgrade to an SUV, he'd need to sell his grand tourers.
If there's one thing we know here at dR, it's selling luxury and exotic vehicles. For the first time, we're going to share our wisdom about finding a buyer for your beloved ride. Check out our checklist on page 34 to learn everything you need to know before putting a For Sale sign in your Bentley's window.
We'll also whisk you away to Geneva for special coverage of the Watches & Wonder Show from Switzerland. Check that out on page 68, and don't forget to name us in your will after you find the perfect Patek Philippe for your wrist.
As spring takes root, we sincerely hope you enjoy all the driving time that may have been curtailed by an atmospheric river or two these last few months. So let's roll out those cars and give them the detailing they deserve before reintroducing them to the world after a long winter's nap. We'll see you out there.
---
PREMIUM PUBLISHING
Experience Luxury through the ALL NEW duPont REGISTRY Premium Publication.
New Design

The NEW duPont REGISTRY magazine features an all-new look for the cover and pages inside. This latest evolution of our magazine is our best yet.

2 Covers

Every issue features two covers: one for newsstands and another designed exclusively for subscribers. Subscribers receive an art-forward cover with less text that's crafted to collect.

New Format

Inside the NEW duPont REGISTRY magazine is an all-new layout that features four distinct sections: Buy, Drive, Live and Sell. These following along the exotic car ownership experience and feature original editorial.

Premium Materials

The NEW duPont REGISTRY magazine cover and pages are now of higher quality material, providing readers with a more premium and substantial reading experience than ever before.

Exclusivity

You won't be able to find the NEW duPont REGISTRY magazine just about anywhere as it's become much more exclusive and distribution is more selective. The easiest way to purchase new issues is to do so right here on our online shop.