Meet The New duPont REGISTRY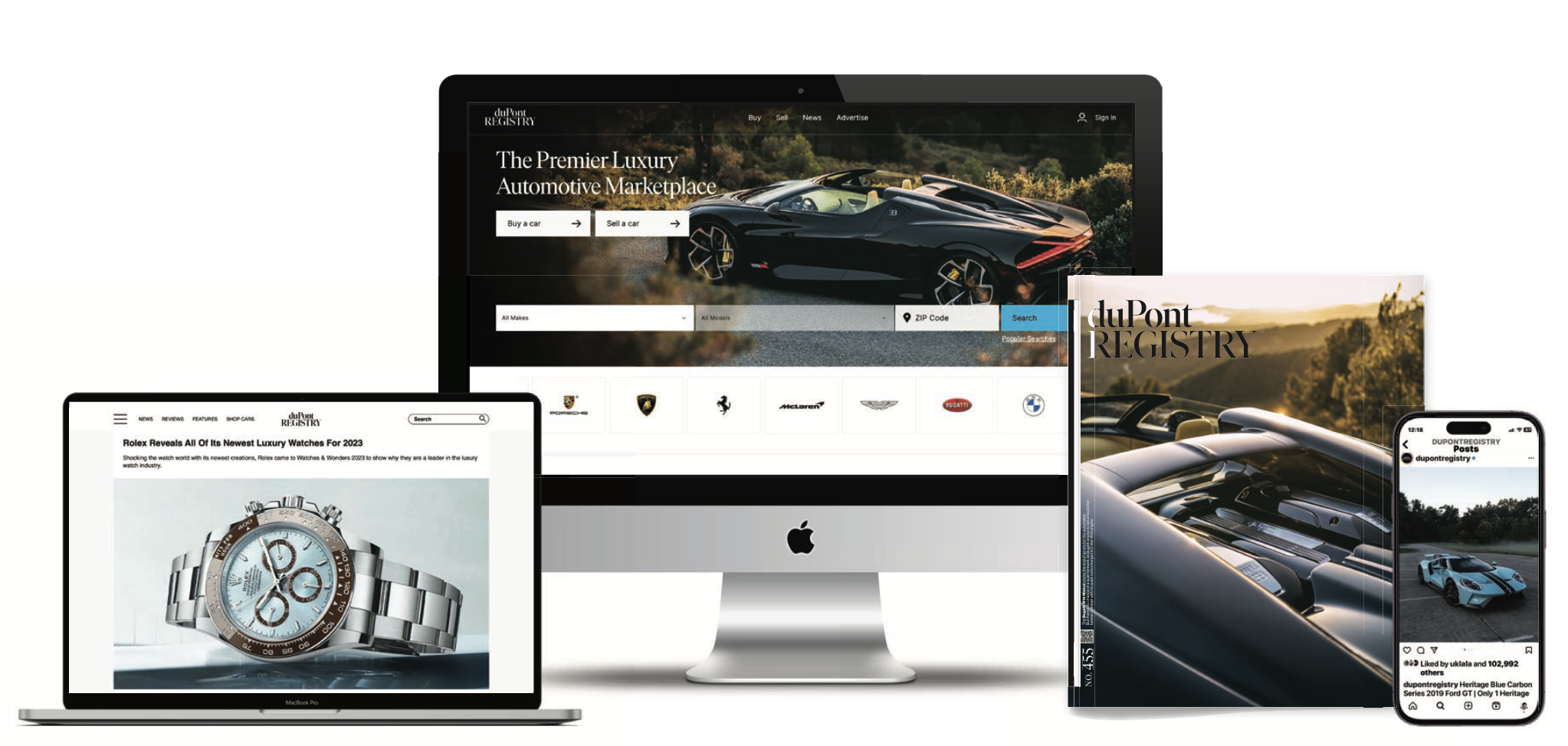 With more than three decades of experience, duPont REGISTRY has been connecting luxury car enthusiasts through its renowned magazine since 1985. Over the years, the publication has become the ultimate coffee table essential for car collectors, dealerships, celebrities, and everyone in between. To expand its reach and cater to the growing demand for high-end automobiles, the company launched its website in the early 2000s, which quickly became the go-to platform for buyers and sellers of exotic and luxury cars.
The acquisition of duPont REGISTRY by the Motorsport Network in December 2021 marked a significant turning point for the company. By joining forces with one of the most influential players in the automotive industry, duPont REGISTRY was able to tap into a vast network of resources and expertise to take their offerings to the next level. With access to cutting-edge technology, innovative marketing strategies, and a wealth of knowledge and experience, the duPont REGISTRY team was able to launch a series of exciting new initiatives that transformed the company and set it on a path for continued growth and success. From revamped digital properties to a completely redesigned print magazine, duPont REGISTRY's evolution under the Motorsport Network has been nothing short of remarkable.
The new duPont REGISTRY magazine features a completely new design for the cover and pages found inside. Inside the NEW duPont REGISTRY magazine is an all-new layout that features four distinct sections: Buy, Drive, Live and Sell. These follow along with the exotic car ownership experience and feature original editorials. Additionally, the magazine is of higher quality material, providing readers with a more premium and substantial reading experience than ever before.
duPont REGISTRY digital properties were also revamped and rebuilt from the ground up, including the marketplace and blog. Now, duPontREGISTRY.com is more sophisticated and streamlined than ever before, offering visitors the best browsing experience possible in the luxury automotive marketplace. Additionally, the duPont REGISTRY News website has been revamped utilizing Motorsport Network's propriety CMS.
You can learn more about our updated offerings by trying them out yourself. Be sure to visit duPontREGISTRY.com for our online marketplace, blog.duPontREGISTRY.com for our news website and gear.duPontREGISTRY.com for the latest issues of our magazine. If you'd like to become part of the duPont REGISTRY Network, be sure to click the button below to get started.