duPont REGISTRY No. 460 - September 2023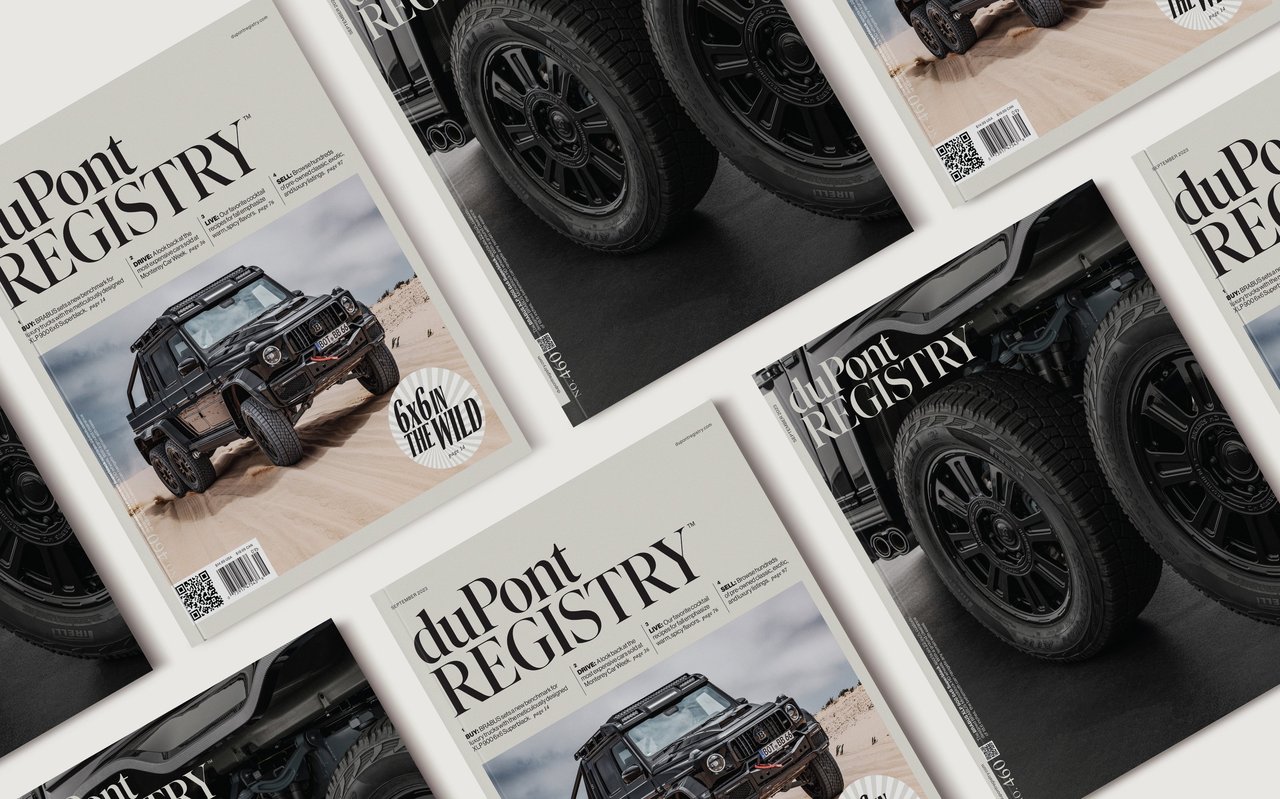 Introducing the September 2023 issue of duPont REGISTRY, starring the Brabus XLP 900 6X6.
When it comes to symbols of excess, affluence, and influence, six driven wheels on your daily driver have become the new scissor doors. Back in the day, the vertical lift of a Lamborghini's door instantly telegraphed your place in the social hierarchy: at the top. In today's car culture, its six wheels on a car otherwise meant to operate with four.
The recently introduced Brabus XLP 900 6X6 is that kind of statement piece. Beginning life as an already impressive Mercedes-AMG G63, the XLP 900 6X6 is the result of some mad scientists at Brabus being given carte blanche to develop the ultimate truck. That's right, this thing has a bed despite the donor vehicle being a fully enclosed SUV. I suppose making it a pickup is small potatoes after you've already decided to add a third driven axle.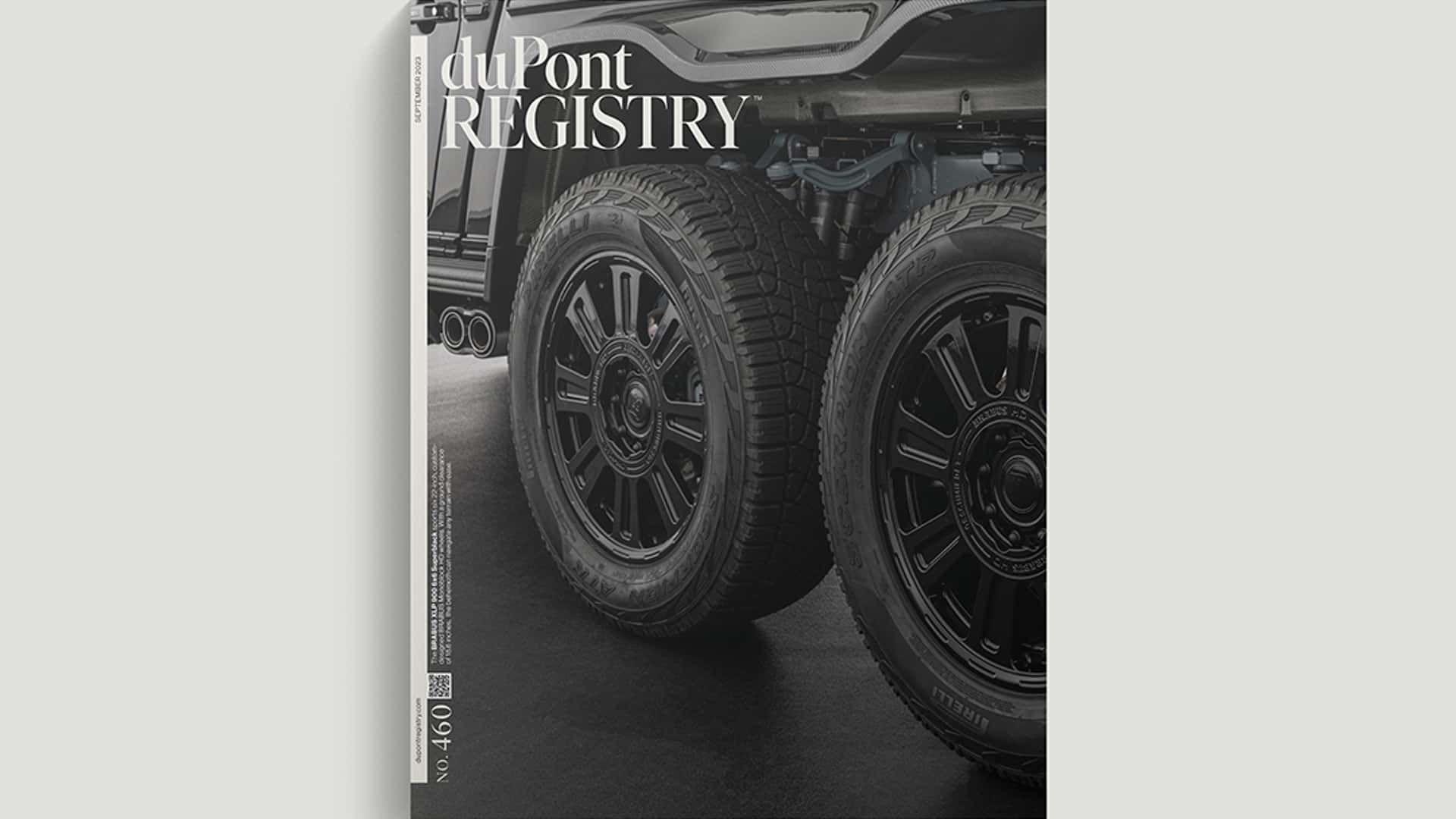 Subscriber Edition
We chose the XLP 900 6X6 as this month's cover car because it reminds us what we love about duPont REGISTRY: turning the page and being arrested by a picture of a car for sale that's wilder than we could have ever imagined. And yet it exists, and it's for sale. That's the feeling it gives us, and you can read the rest of the story on Brabus' brutish six-wheeled Mercedes-Benz with a bed on page 14.
This month's other feature car is wholly different. The Rolls-Royce Spectre is arguably the most significant product the luxury car maker has ever built, but it looks similar enough to the Phantom Coupe it replaces that you might mix up the two. You can't tell at first glance that enclosed within is the marque's first all-electric powertrain. Will the Spirit of Ecstasy faithful embrace the brand's electrified future? We'll tell you why they should on page 22.
We also spent some seat time with the new BMW M2, an engaging, charming, and decidedly unexpected creation from the people who brought you the 2002. The M2 is a hell of a fun ride, and its front end lacks the oversized double kidney grille that's appeared on so many other BMWs lately and roiled the brand's user base. We have nothing to complain about regarding the M2, yet we still have many things to say, which you can read on page 28.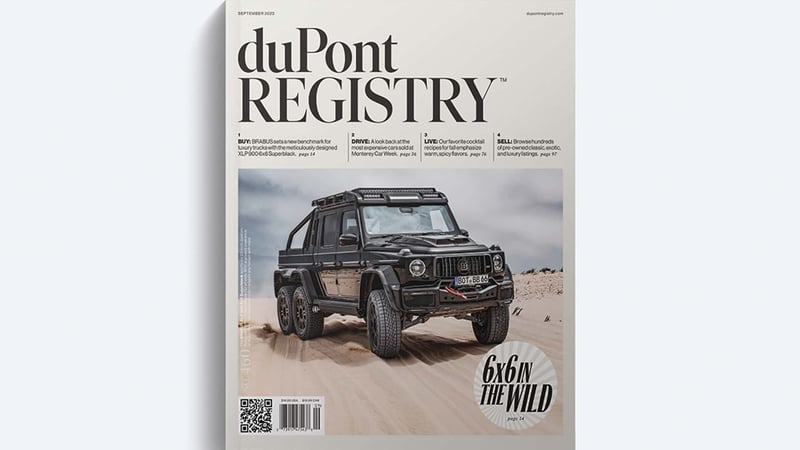 Newsstand Edition
It's also that time of year to start thinking about Monterey Car Week on the California coast. Book your lodging and transportation early, and don't forget to wander through the event's parking lots for the best unofficial car show you could ever attend. We've got more tips on how to prep for Pebble Beach on page 46, as well as a look back at the most expensive auctions ever hosted at Monterey.
We end this month's issue with an important piece on watch safes. God forbid the worst case scenario happens and a burglar is standing in your bedroom wondering what to take. On page 70, we show you some options that will ensure your watch collection doesn't make his list.
Summer's almost over, but rather than dwell on where you'll go this year when the weather turns, how about sitting back and enjoying the final rays of summer on a beach chair reading this month's issue of duPont REGISTRY? Maybe you'll turn a page and be stopped by something special you've never seen before.
Advertise in Our Next Issue:
Are you searching for the perfect platform to amplify your brand's visibility and reach a discerning audience of luxury enthusiasts? Look no further than duPont REGISTRY magazine, where we offer unparalleled advantages that set us apart from other advertising options. Here's why advertising with duPont REGISTRY is a smart choice for your brand:
Unmatched Reach and Influence: duPont REGISTRY boasts a readership that extends far beyond traditional boundaries. With our established reputation as a trusted source of luxury content, we attract a diverse community of high-net-worth individuals, influencers, trendsetters, and aspirational readers from around the world. Advertising with us grants your brand access to a highly engaged and affluent audience, ensuring your message reaches those who appreciate and seek out the finest things in life.

Niche Market Expertise: Unlike generic advertising platforms, duPont REGISTRY specializes in the luxury lifestyle market. Our magazine is dedicated to showcasing the crème de la crème of automotive excellence, superyachts, aviation, and other luxury segments. By aligning your brand with duPont REGISTRY, you tap into our deep understanding of this niche market, ensuring that your message reaches the right audience who share a passion for luxury and sophistication.

Unrivaled Print Quality: We believe that presentation matters. That's why duPont REGISTRY invests in higher quality materials for both the cover and pages of our magazine. From the moment readers hold our publication in their hands, they are greeted with a luxurious tactile experience that enhances their perception of your brand. The premium materials used not only look and feel better, but they also convey a sense of prestige and exclusivity, elevating the overall impact of your advertisement.

Exclusive Distribution Channels: The exclusivity of duPont REGISTRY is underscored by our selective distribution channels. Our magazine is a rare gem that cannot be found on every newsstand. Its limited availability makes it all the more coveted among discerning readers who actively seek out the finest publications. By advertising with duPont REGISTRY, you align your brand with an elite and prestigious platform that resonates with those who appreciate the art of luxury.

Tailored Advertising Packages: We understand that every brand is unique, and that's why we offer tailored advertising packages to suit your specific needs. Whether you're aiming for a full-page spread, a series of strategically placed ads, or a custom campaign, our dedicated advertising team is ready to work closely with you to create a compelling and impactful advertising strategy. We ensure that your brand's message is effectively conveyed to our esteemed readers, maximizing your return on investment.

Captivating Content and Visual Appeal: At duPont REGISTRY, we pride ourselves on curating captivating content and stunning visuals that make our magazine a true masterpiece. By advertising alongside our engaging articles and breathtaking imagery, your brand becomes part of an immersive and highly desirable reading experience. Our readers actively seek out our magazine for inspiration, entertainment, and information, allowing your brand to become an integral part of their luxury lifestyle journey.