The Significance of Monterey Car Week for Brands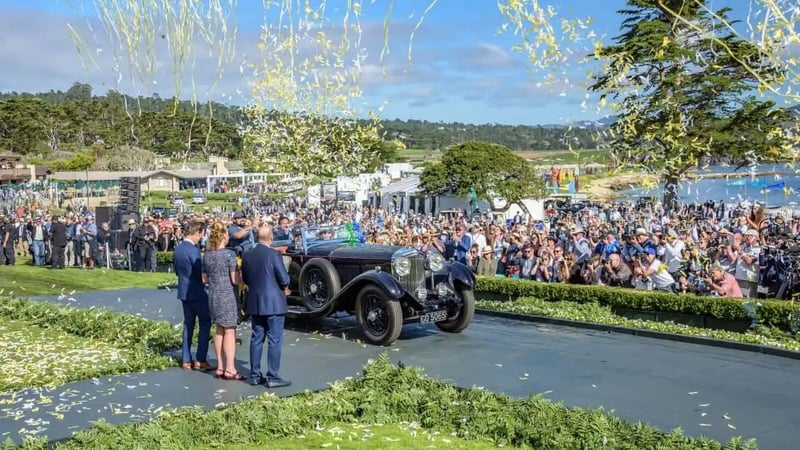 Imagine a week where automotive legends come to life, and brands get a golden ticket to reach some of the world's most affluent car enthusiasts. Welcome to Monterey Car Week, a prestigious stage that has turned the beautiful coastal town of Monterey into the global epicenter of automotive excellence.
Monterey Car Week, held annually since the 1950s, has grown into a premier automotive event, comprising a series of shows, auctions, and races that showcase the pinnacle of automotive design and innovation.
The Prestige and Heritage of Monterey Car Week
Monterey Car Week is more than a series of events; it's a celebration of automotive heritage. Its rich history is synonymous with luxury, performance, and craftsmanship.
Events like the Pebble Beach Concours d'Elegance and the Rolex Monterey Motorsports Reunion serve as grand stages for brands to present their masterpieces. These iconic gatherings provide a unique platform for automotive brands to showcase their lineage, innovation, and commitment to excellence.
Exposure to a Captive Audience
The diverse crowd of Monterey Car Week ranges from affluent collectors to industry experts and celebrities. It's a melting pot of passion, where brands can directly engage with a targeted audience.
Brands have the opportunity to create lasting impressions through curated exhibits and immersive experiences. It's not just about displaying cars; it's about telling a story and forging emotional connections that resonate with potential customers.
Unparalleled Networking and Partnerships
Monterey Car Week isn't just a spectator sport. It's a hub of collaboration, where brands can forge valuable connections with other industry players, collectors, and influencers.
The networking opportunities extend beyond the showroom, fostering collaborations, sponsorships, and affiliations that can amplify brand visibility. It's a web of connections that can lead to game-changing partnerships, enhancing credibility and reach.
Generating Buzz and Media Coverage
Monterey Car Week is a media magnet. Journalists, bloggers, and influencers from around the world descend upon Monterey, creating a buzz that resonates far beyond the event.
Strategic media relations and well-timed press events can amplify brand messages, reaching a global audience. The media coverage is more than publicity; it's a validation of a brand's position in the automotive elite.
--
Monterey Car Week is not just an event; it's an opportunity. An opportunity to celebrate heritage, engage with a captive audience, build lasting connections, and create a media sensation.
Participating in Monterey Car Week is more than a marketing strategy; it's a statement. It tells the world that your brand belongs to the pantheon of automotive greatness. Whether you're a seasoned collector or a casual enthusiast, experiencing the magic of Monterey Car Week firsthand is a call you simply cannot ignore. If you do happen to attend, be on the lookout for duPont REGISTRY's presence throughout the week.
Monterey Car Week Schedule Of Events
Wednesday, August 16th:
Rolex Motorsport Reunion (8:30am - 6:00pm)
Broad Arrow Auction Preview (9:00am - 4:00pm)
Bonhams Quail Lodge Auction Preview (10:00am - 4:00pm)
RM Sotheby's Auction Preview (10:00am - 7:00pm)
Gooding & Company Auction Preveiw (10:00am - 6:00pm)
Concours For A Cause (11:00am - 4:00pm)
Motorlux (6:00pm - 10:00pm)
Thursday, August 17th:
Pebble Beach Tour d'Elegance Lineup at Pebble Lodge (7:00am - 9:00am)
Mecum Auction (8:00am - 6:00pm)
Rolex Motorsport Reunion (8:30am - 6:00pm)
Gooding & Company Auction (9:00am - 6:00pm)
Broad Arrow Auction (4:00pm)
RM Sotheby's Auction (5:30pm)
Santa Lucia Preserve (5:00pm - 10:00pm)
Friday, August 18th:
Werks Reunion Monterey (7:00am - 3:00pm)
Mecum Auction (8:00am - 6:00pm)
Rolex Motorsport Reunion (8:30am - 6:00pm)
The Quail: A Motorsports Gathering (10:00am - 4:00pm)
Gooding & Company Auction (9:00am - 9:00pm)
Bonhams Quail Lodge Auction (11:00am)
RM Sotheby's Auction (5:30pm)
Saturday, August 19th:
Concours d'Lemons (8:00am - 2:00pm)
Mecum Auction (8:00am - 6:00pm)
Rolex Motorsport Reunion (8:30am - 6:00pm)
Gooding & Company Auction (9:00am - 5:00pm)
Concorso Italiano (10:00am - 3:00pm)
Monterey Motorsports Festival (11:00am - 10:00pm)
Spike's Car Radio Live (11:30am)

---

Exotics on Broadway (1:00pm - 6:00pm)
RM Sotheby's Auction (5:30pm)
Leguna Seca Track Day (All Day)
Sunday, August 20th:
Dawn Patrol (Before 5:00am)
Rolex Motorsport Reunion (8:30am - 6:00pm)
Pebble Beach Concours d'Elegance (10:30am - 5:00pm)
Pebble Beach RetroAuto (8:00am - 6:00pm)
---