Digital Advertising
duPont REGISTRY Digital
Maximize your brand's online visibility with our cutting-edge digital advertising solutions. Partner with us today and witness your online presence reach new heights.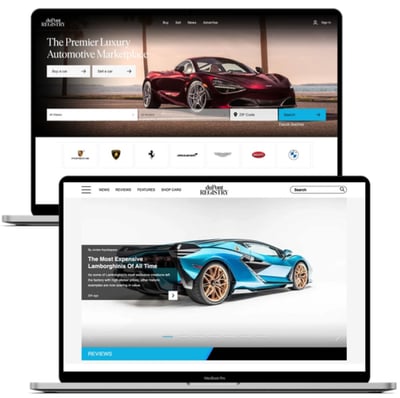 Digital Advertising
Marketplace + Media Source
For over two decades, duPont REGISTRY has had a digital presence that spans many platforms with the sole purpose of reaching the most affluent customers. From our online marketplace to our luxury lifestyle news center, duPont REGISTRY has every corner of the web covered. The result of our far reach on our digital platform is the ability to specifically target the right audience for our most discerning clients.
Digital Advertising
Display Advertising
Our Digital Banners are designed to capture attention and drive engagement. With their strategic placement across our digital platforms, they offer maximum exposure to your brand. But that's not all. We also offer rich media options for certain banner positions, giving you the opportunity to showcase your products in a more interactive and engaging way. Whether you're looking to increase brand awareness or drive conversions, our Digital Banners have got you covered. And with our optimized banner positions for desktop or mobile views, you can be sure that your message is reaching the right audience, no matter where they are. Choose our Digital Banners and take your digital advertising to the next level.
duPont REGISTRY has been the leader in luxury since 1985.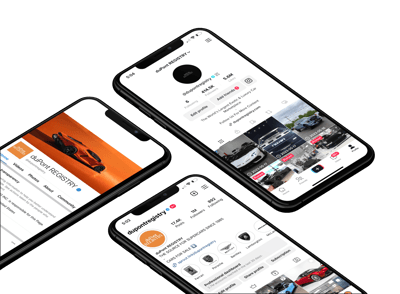 Digital Advertising
duPont REGISTRY has been at the forefront of creating large social media followings, amassing 7 million+ followers across all of the most important social platforms. Because of this, we have been able to reach celebrities, athletes, collectors and more. What's more, our social platform has led to a substantial amount of high-dollar transactions of exotic automobiles and more.
Digital Advertising
Newsletters
DAILY NEWSLETTER
duPont REGISTRY's daily Newsletter will put the focus on your brand with limited positions sold per newsletter & dedicated fan base.
DEDICATED EMAIL
duPont REGISTRY's dedicated email is 100% owned by our clients. Need to make an impact or need to tell your story to a proven audience of automotive enthusiasts? We have you covered.
POPULAR CARS EMAIL
duPont REGISTRY's Popular Cars email showcases the most popular exotic and luxury inventory daily.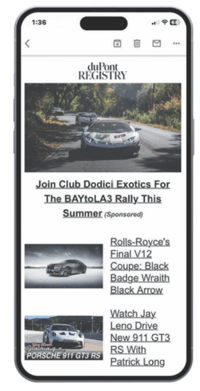 Digital Advertising
Native Content
At duPont REGISTRY, we are passionate about the power of storytelling and the impact it can have on brand messaging. We understand that businesses need a unique way to connect with their target audience, and our branded content solutions provide just that. Our team of expert writers and marketers will work with you to create sponsored editorials, custom features, native advertising, and more that tell the story of your brand in a way that resonates with our discerning readership. With duPont REGISTRY branded content, you can amplify your message and connect with your audience like never before.
Why should I consider advertising with duPont REGISTRY?

By utilizing our digital platforms, you can showcase your brand to a highly curated and sophisticated audience of luxury enthusiasts. Our audience is discerning and appreciates the finer things in life, making them the perfect target for luxury brands looking to make a statement. With unparalleled exposure on our digital platforms, you can be sure that your brand will be seen by the right people, at the right time, and in the right context.
What are the benefits of advertising with duPont REGISTRY digital platforms?

Partnering with DuPont REGISTRY's digital platforms provides an unparalleled chance to captivate a discerning audience, elevate brand recognition, and attain quantifiable success within the luxury marketplace.
How can I get started with digital advertising through DuPont REGISTRY?

If you have an inquiry, simply click on the "Advertise Now" below, or fill out the form provided to get in touch with the duPont REGISTRY team directly.