Watches
Luxury Watch Advertising
At duPont REGISTRY, we excel in bridging the gap between discerning connoisseurs and top-notch watchmakers. With our watch advertising solutions, luxury watch brands can effortlessly connect with their ideal buyers, aiming to establish long-lasting relationships.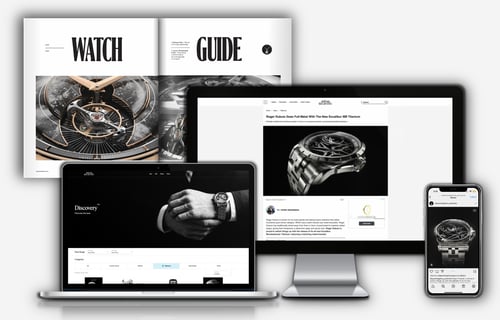 Watches
Annual Watch Guide
Experience the ultimate luxury watch guide, featuring the most exquisite timepieces from renowned brands. Our guide not only showcases the beauty and craftsmanship of these watches, but also offers innovative advertising solutions to elevate your brand. Let our expert team help you create a personalized advertising campaign that will attract the attention of watch enthusiasts and connoisseurs alike. With our annual luxury watch guide, you can ensure that your brand stands out in the highly competitive watch market.
Watches
Take your luxury watches to the next level with our attention-grabbing Digital Banners strategically placed across our digital platforms. But that's not all - we also provide rich media options for select banner positions, allowing you to showcase your products in an interactive and engaging manner. Whether your goal is to increase brand awareness or drive conversions, our Digital Banners have got you covered. With optimized banner positions for desktop and mobile views, your message is sure to reach your target audience no matter where they are. Opt for our Digital Banners and take your digital advertising game to new heights.
duPont REGISTRY has been the leader in luxury since 1985.
Watches
Digital- Native Content
Our revamped media platform is the perfect stage for your luxury watches to shine. With our digital-native content showcase, you can showcase your timepieces in stunning detail and elevate their status to new heights. Our team of experts will work with you to create captivating and engaging content that will leave a lasting impression on your audience. Whether you're looking to attract new customers or strengthen your existing brand, our platform is the ideal solution for showcasing your luxury watches in all their glory.
watches
With our brand new luxury marketplace platform discovery, you have the opportunity to present your exquisite timepieces to both buyers and sellers. Our platform is designed to provide you with a seamless experience, enabling you to showcase your watches to a global audience. We understand the value of luxury watches and the importance of finding the right buyers and sellers. That's why we have designed our platform to cater to your every need. Our team of experts will ensure that your watches are marketed effectively, and that your listings are visible to potential customers worldwide. So, whether you are looking to sell your luxury timepieces or seeking to expand your collection, Discovery is the perfect platform for you. Join us today and discover the world of luxury watches like never before!